Dear Podcast Leader,
Podcasting For Thought Leaders is a six-week live coaching and training program that is designed to launch your authority-building podcast and increase your marketing reach through the application of a specific launch strategy, ongoing discipline and production and marketing best practices.
You WILL launch your podcast successfully, even if you're apprehensive about the technology, equipment or social media skills you believe you need to get started.
In this course, you will shorten your time to launch, and you will position yourself and your business as the authority in your respective niche. This will begin to attract listeners who want to hear your message, who resonate with the topics and/or guests you are having on the show, and who, in turn, will look for opportunities to further engage with you.
Like any other practice, ensuring you are successful will require consistent action on your part.
As with most successful programs, the way to ensure you are making consistent progress is to provide a framework.
The 6 Modules in the course will give you that solid foundation.
More on the 6 Modules below.
---
Many people new to podcasting are frustrated at the failed previous attempts to get their show off the ground, and give up along the way.
Many thought leaders know that they have a message that needs to be heard by a wider, more global audience, but they don't know how to reach them.
Many business owners don't have a plan when thinking about launching their show… and rely on patching together a plan from a collection of YouTube videos and blog posts.
And finally, many podcasters-to-be would simply like to to be provided with the steps necessary to ensure that they don't waste their time.
---
If you recognize yourself in any of these examples, then I thank you for already having the presence of mind to consider enrolling in this course.
I've been working on this content, in some form or another, for the past 3 years.
I have been developing it unconsciously for the last two decades, and consciously for the last 15 months.
From an early start with my own podcast, learning the specifics of what makes a rock-solid course… and onto developing my time and energy into what I'm really good at: teaching people how to successfully launch and promote their authority-building podcast, I've been a student of the podcasting world for a while now.
Now I'd like to share all that I know.
Podcasting For Thought Leaders will provide you not only with the what and the how for planning, launching and promoting your own successful podcast… but it will also provide you with the necessary WHY, so that you can understand why some of these very important steps in the process should not be skipped!
Whether you are creating a solo show or hosting subject-matter experts… the tools that you learn in Podcasting For Thought Leaders will serve you for life.
EVERY single listener has to go through a relationship journey before becoming a raving fan.
Sometimes that journey takes only a few episodes. They'll listen to the first few episodes and resonate with you immediately.
Sometimes that journey takes a bit longer. Maybe you need to educate them on the topic, especially if it's one where it's hard to find quality content.
And sometimes it takes weeks or months, to build that framework of Know, Like, and Trust.
But the journey always takes place.
And your role, as the creator and host of the podcast, is to make sure that that journey looks as much like this as possible:
1. Plan: what should I be thinking about as I prepare to launch my show?
2. Position: how do I want to position my show and myself to my target audience?
3. Produce: how do I produce a show the demonstrates to new listeners that I'm taking this seriously?
4. Publish: where do I initially publish my episodes to ensure a great first impression?
5. Promote: what other places can I promote the show for maximum visibility?
6. Profit: what should my call-to-action look like, considering the destination most podcasts are now consumed?
---
This course focuses on the correct implementation of each of the above stages as you think about the creation and nurturing of your podcast, from the moment you have identified the idea, to the creation of the branding, to the the development of the format and onwards to the ongoing connection with your guests and with your growing audience.
The information and teaching is evergreen, which means it will serve you both immediately and in the future, regardless of the tools or technology that you are using to launch your show.
Content Outline and Learning Objectives
The Podcasting For Thought Leaders core material is made up of three main pillars, which represent the 6 phases of your podcasting journey: DELIVER, CONNECT, and INFLUENCE.
Inside of those three phases, you'll find the Six Modules outlined above.
By paying deliberate attention to the Six Modules, and improving our delivery and execution at each step, your overall podcast's likelihood of success will increase exponentially.
For example, if you can become 5% better at your Positioning, and 10% better at Production, and 10% better at Promoting, then the compound returns will be cumulative and clear.
PHASE 1:Â DELIVER
Plan
Build Your Brand
Structure Your Show
Perfect Your Approach
Position
Build The Platform,
Check Your Sound
Nail the Branding
---
PHASE 2:Â CONNECT
Produce
Clean Your Sound
Get a Game Plan
Spread the News
Publish
Tell Your Story
Socialize Your Show
Maintain Communication
---
PHASE 3:Â INFLUENCE
Promote
Leverage Influence
Stay Top of Mind
Go the Extra Mile
Profit
Define Your Call To Action
Repurpose Your Content
Cultivate Your Sponsors
---
Dates and specifics
The first pieces of course material – the introduction and Module 1 will be available immediately upon signup.
After that, at weekly intervals, the remaining modules will be released.
You will have lifetime access to the training material, and you'll benefit from any future upgrades, improvements or modifications to the material.
I will be hosting a live Q&AÂ and teaching session by webinar roughly every two weeks. The times will vary to accommodate different time zones. All calls will be recorded and made available in a dedicated members area.
There will be a "questions-only" Facebook group for asking questions in between calls that will be answered EITHER in the Facebook group OR on the live call. It will be a heavily-policed no-promo or time-wasting zone … and I promise not to give you weekly nudges to tell me what you're up to. If you want that, you're probably already in a free group where you've got it.
You are in no way required to "complete" the material in the four months of live support and training, as you will have unfettered access to the material. However, your access to live calls and question-and-answer sessions will be limited to November until February, both months included.
Enrollment fees
The course enrollment fee is $997.
There is a discount if you opt to pay in full.
HOWEVER … for the month of May, for this special beta group, you can benefit from a full 50% discount.
Option 1: Pay in full and save $499, for a one-time charge of $498. Use coupon code "fullcastpftl50". Click here.
Option 2: 1 payment today of $139, 3 further monthly payments of $139. Save $441. Click here.
Option 3: The full Podcasting For Thought Leaders PLUS private-hotline unlimited four months private coaching with Harry (cellphone number included): One payment of $4,999. Click here.
Validity of pricing: The above pricing is valid until Friday, May 12, 2017.
You CAN join after that date, and you will pay full fees.
Guarantees and refund period
The program comes with a 14-day unconditional satisfaction guarantee. That means you can try it out for a month, and if it doesn't meet your needs, then you just have to say the word and your money will be sent back to you with no questions asked.
Questions?
Email course@fullcast.co
About your teacher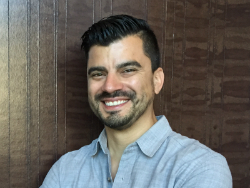 Harry Duran is Founder of FullCast, a full-service, done-for-you podcast production and marketing consultancy. He helps 6-figure entrepreneurs amplify their authority and extend their reach through the power of podcasting.
As Host of the popular Podcast Junkies on iTunes for the past 3 years, Harry has had conversations with a wide array of interesting and engaging podcasters. Some of his most memorable guests have included Marc Maron Executive Producer Brendan McDonald, Lea Thau, Host of Strangers, Helen Zaltzman, Host of The Allusionist, and Jordan Harbinger, Host of The Art of Charm, just to name a few.
Harry has given talks at podcasting conferences on the importance of finding your voice and the importance of long-term engagement with your podcast guests. Harry shares lessons learned from his first 25 interviews in his first book, Around the Podcast Campfire: Conversations with Engaging Podcasters.
What to do next
Join now by selecting your option below. If you have any questions, email course@fullcast.co
Option 1: Pay in full and save $499, for a one-time charge of $498. Click here.
Option 2: 1 payment today of $139, 3 further monthly payments of $139. Save $441. Click here.
Option 3: The full Podcasting For Thought Leaders PLUS private-hotline unlimited four months private coaching with Harry (cellphone number included): One payment of $4,999. Click here.
Validity of pricing: The above pricing is valid until Friday, May 31, 2017.