When booking guests for your show, finding a time that's good for both of you to hop on SKYPE for an interview can often turn into a dreaded game of email tag. Using an online calendaring tool to manage your schedule effectively makes you look like you have your act together.  Leveraging a tool that has an embed function directly into your website, like Calendly, allows guests to schedule right from there and engage with your brand.
There are several different options out there, including Acuity and Schedule Once. Â I use Calendly for Podcast Junkies and highly recommend it, as the software differentiates itself from other scheduling solutions through its simplicity and elegant user interface.
Pricing
Calendly offers a free, basic plan for individuals. For only $8.00 per user/month (billed annually at a savings than monthly billing) you can utilize its Premium features. These features include salesforce integration, unlimited event types, custom email notifications and more.
Its calendaring tool can be integrated with Google, Office 365 and Outlook, and checks all calendars for conflicts to avoid double-booking. It also adds new events to the calendars automatically. A bonus feature is its integration with Zapier, which allows triggering actions in other apps after an event is scheduled or canceled.
Getting Started With Calendly
When you first use Calendly, set it with the times you are available, in your local time zone. The guest can view your availability in their own time zone, pick a time that suits them and schedule an appointment with a few clicks. The appointment automatically syncs to your Google Calendar and voila! No more drama over cross-continental meetings.
Scheduling Interviews
Interviews can be scheduled with you up to 60 rolling days in advance and can be edited depending on your needs. I suggest setting it to 30 rolling days so your guests do not have to book too far in advance.
As your invitee schedules their appointment, the booking form requests their name and email address. You can also include up to four additional questions in the booking process. I ask for their Skype ID (as my interviews are done via SKYPE), their website address, social meeting handles and a high-res headshot. Additionally, I ask if they have a product or service they would like me to mention during the episode.  There is a feature on the "Additional Options" page, where you can add a link to the bottom of the page. I added the link to my latest episode as a way to drive traffic back to my site.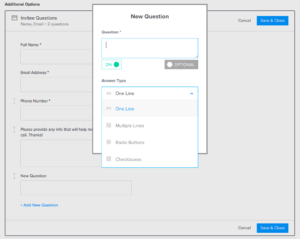 Embed Function
Perhaps one of the most important key features with this calendaring tool is their embed function, where you can embed your main Calendly page (or a specific event type), into your website. I recommend this practice, as it gets people to your site. Once they set up the appointment, they might check out the other content that is there.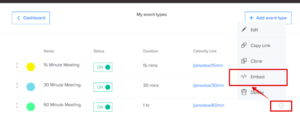 You're All Set!
Ready to move forward? Check out Calendly for yourself and see how this easy-to-use, yet powerful scheduling software makes it easy for users to setup, use and manage scheduling of your podcast interviews.